1876?
Born in Chesterfield, England.
Mother: Mary Hall Freeman; father: unknown.
1880?
Came to United States as a child, attended St. Johnland School, Long Island, N.Y.
1905-11
Worked with Women's Social and Political Union (Pankhurst's organization) in England as an organizer, speaker, and coordinator of suffrage foreign bureau.
1911
September: returned to U.S. and worked with New York City Woman Suffrage Party; also worked as lecturer on suffrage and labor conditions.
1912
Toured Long Island and Ohio in a horse-drawn wagon, speaking and organizing for women's suffrage with Rosalie Jones, N.Y. "society girl".
1913
January: arrested as picket in support of striking white goods workers
February: official speaker on "Pilgrim's Hike," a suffrage march from N.Y.C to Washington to deliver suffrage message to incoming President Wilson.
Summer: one of four suffrage hikers to travel from N.Y.C to Boston with a hurdy-gurdy to publicize suffrage.
Throughout the year, spoke and organized for suffrage in N.Y.S.
1914
April: arrested with Upton Sinclair for protesting Rockefeller's treatment of striking Colorado miners.
Spring, summer: organizing, speaking in upstate N.Y., including a tour by oxcart in rural areas.
Fall, winter: continued activities upstate as a paid organizer of the NYS Woman Suffrage Assoc.
1915
Organized and lectured exclusively in New York State.
1916
Winter: paid suffrage organizer in Texas.
Spring: investigated lynching in Waco, Texas.
Summer: three month speaking tour to raise money for NAACP anti-lynching fund.
Fall: spoke out against Wilson's racist policies on Hughes' Women's Campaign Train, on coast-to-coast tour.
1917
Winter, spring: organizer, speaker, lobbyist for Emergency Peace Federation, Washington, D.C. and New York.
Summer (May, June): First American Conference on Democracy and Terms of Peace.
June: organizer, speaker, lobbyist for People's Council of America, Chicago, West Coast.
Also, for rest of 1917.
1918
Continued as a staff member for People's Council and other radical peace and labor groups.
1919
Named on Senate Who's Who in Pacifist and Radical Movements.
Spring: travelled to England, Scotland, and Ireland to study labor conditions and Irish question. Victim of Red Scare, investigated by Lusk Committee, N.Y.S., and Senate Judiciary Committee.
1920-?
Fundraiser for Lighthouse Foundation for the blind.
1925-37
Owned and operated an antique store in Provincetown, Mass during summers.
1930-31
Worked as Social Worker/Administrator for first food surplus distribution during Depression.
1937
Moved to Pasadena, California for health reasons. Active in local Woman's Party.
1942
February: Died of pleurisy.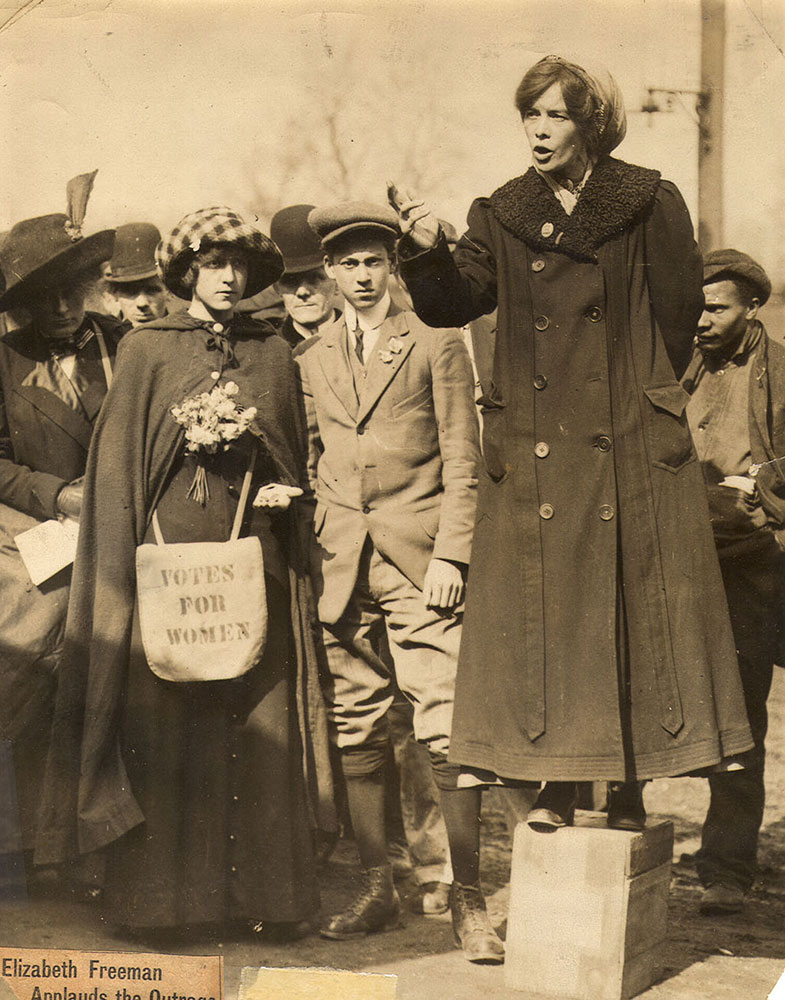 Elisabeth Freeman came to this country as a small child with her brother John and sister (Clara) Jane, and their mother, Mary Hall Freeman, who came estranged from her husband. Mary worked for St.Johnland, an orphanage on Long Island for a time, and the children lived at the orphanage for some time. Elisabeth was far from wealthy, did not go to college, and as a woman, her opportunities were limited. She was involved with the Salvation Army and regularly attended meetings which she found uplifting. Her chance encounter on a trip to England with the British suffragettes led to a career as a professional speaker and organizer. Her causes spanned nearly every progressive movement in the early 20th century; she was fearless, bold, innovative, and hard working for her beliefs. She was unflagging in her belief that people could make the world better through their own efforts.